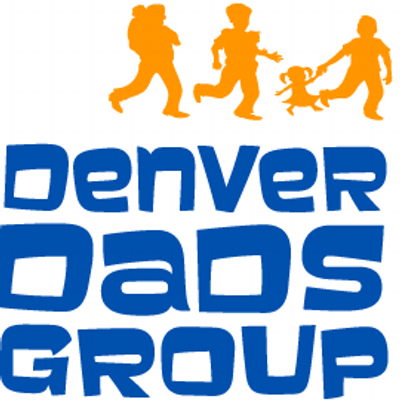 I actually made it out the door and met other dads last week. The first big step was Toddler Tumble Time at the Jewish Community Center. I arrived about 10 minutes early. I'm unable to not be early or at least on time. Too many theater calls I guess. No one else showed up for about 15 minutes. So Robin had the mats to himself. When people did start to arrive it was like a flood gate opened and suddenly the room was full of kids and parents. I did that awkward standing by wall at the middle school dance thing for a little while. But luckily there were other dads from the Denver Dad Group there and they were more out-going that me and so after a few quick hand-shakes and name exchanges, I was suddenly part of a group. A Denver dad. That's a huge step.
It was supposed to be "lightly structured" activities, but the instructor didn't show up, so it was just a toddler free for all. Robin got saturated with the activity after about 40 minutes and kept running out the door into the lobby, so we packed up and headed home.
But my week wasn't done. On Wednesday night I went to a meetup with the Britax public out reach rep, Sarah Tilton. About 9 dads came, including a couple I'd met at the meetup. I brought David along. Sarah talked about an hour about car safety and gave some pretty interesting advice about when to move kids to different seats. The coolest thing she talked about was this new type of car seat called the click tight. Basically the whole seat of the car seat opens up, you thread the seat belt through and then close the seat and it cinches down the belt. No need to pull the belt tight or anything. Then she did a raffle to give away three free car seats. David and I both won. Pretty cool. I selected the Britax Marathon clicktight seat. In red and black to match our other seat.
Then on Thursday I walked over to Coor's Field to watch the Rockies. Paige and David had decided to take Jack to a game. But last weekend also happened to be the National Stay at Home Dad's convention in Denver. The first night, the Denver Dad's Group hosted a meetup at the Rockies' game. So I walked over and met Paige and David and their friend Ebony and her daughter Victoria. They had seats along the third base line. The stadium was pretty empty. The Rockies haven't been good in a while, so David was able to take Jack and Victoria down to the front row, near the guy who retrieves the foul balls. Usually he tosses them into the crowd, to kids. Jack was chatting him up, so after the next foul ball the guy handed it to Jack. Jack took it with a great grin, then tossed it back on to the field. "Do it again?" Hmm, no Jack. David put the ball in his pocket.
After a couple of Innings, David and I headed to the rooftop. Sometime in the last few years the stadium tore out the top tier of seats on the eastern side of the stadium and installed two floors of bars and restaurants. It's standing room only and you can watch the game from the rail. Any ticket can get you onto the rooftop, but you can also buy a rooftop ticket for like $14 which comes with a food voucher of $8. It was a perfect place for the dad meet up.
Looking around when we arrived, we didn't see any folks that looked like a group of dads. There were quite a few fit guys in work shirts who clearly work down town and quite a few woo girls. We gave up on the first deck and headed up to the top deck. A short walk from the stair we saw them. A group of guys with t-shirts and pot bellies. David and I nodded. We'd found our people.
Again we sort of mingled awkwardly. David was a good sport putting up with me dragging him to a group he doesn't really have any connection with. I looked around and then in a burst of out-going-ness introduced myself to a couple of guys I recognized from the dad bloggers group on facebook. After a couple of minutes of small talk David pointed some of the guys from the Denver Dad's group that we knew. I met a guy named Marc that I hit it off with pretty easily. He has a six month old and so we instantly had a lot to chat about. At the end of the night we exchanged numbers. When I have him my number he said "Bay area?"
"Yeah, I did my undergrad out there?"
He got kinda serious and asked, "Where?"
"Stanford."
"Really? What year were you there?"
Turns out he was at Stanford as a grad student at exactly the same time I was there. Small world.
I am an introvert. My ability to speak seems to melt away in a large group, unless I'm there in some sort of work situation. But I do have sudden bursts of extroversion, when that inner voice is tamped down and I can get out in front of my shyness and meet folks. I've been pushing myself hard to get out and meet people. To do things with people. I think it must be related to this current push to take care of myself. I'm losing weight again and trying to walk more than 10k steps a day. I'm pretty proud of myself for that. The last two weeks I've walked over 100 miles. (198,000 steps).
But I know that this phase of exercise and extroversion is probably just a binge. At some point it'll get too cold to take the kind of walks I've been taking, or Robin will stop being content to ride in the stroller. But hopefully the guys I meet now will be enough to push back against the gravity of introversion and get me out more. It'll be good for Robin. It'll be good for me.